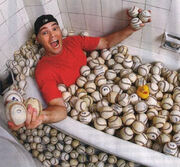 Zack Hample is a New York based writer and Major League baseball collector. In 1999, he published the book How to Snag Major League Baseballs, and in 2007 he finished Watching Baseball Smarter, a detailed guide to the intricacies of the game of baseball. As of May 8, 2007, Hample has collected 3,006 baseballs from Major League games. He snagged baseball #3,000 using his famous baseball glove trick at Yankee Stadium on May 7, 2007. He also holds the official record for the video game Arkanoid (1,658,110 points), which he set on March 13, 2000.
External links
Edit
Ad blocker interference detected!
Wikia is a free-to-use site that makes money from advertising. We have a modified experience for viewers using ad blockers

Wikia is not accessible if you've made further modifications. Remove the custom ad blocker rule(s) and the page will load as expected.