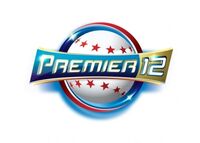 WBSC Premier 12 World Baseball Softball Confederation (WBSC) organized by 12 countries and regions participating, WBSC was elected an international convention by the representative match scheduled to be held every four years baseball. The 1st tournament will be held in Taiwan in 2015 November.
Overview
Edit
The International Baseball Federation (IBAF) after 2011 decided to abolish the then "Baseball World Cup" in favor of awarding the title of World Champion to the winner of the World Baseball Classic. In response to this the IBAF and World Baseball Softball Confederation (WBSC) have decided to create new tournament to fill the void left by the World Cup and to create a senior level international competition between World Baseball Classics.
Discussions for the participation of MLB players are on-going.
The method of qualification for the Premier 12 (at least for the inaugural tournament in 2015) will be through the end of 2014 WBSC world rankings. There will be a prize of several million U.S. dollars total awarded to the winner. In addition it has been guaranteed from the WBSC the teams will not bear the participation costs of accommodation expenses, such as travel expenses.
The IBAF performs in a round-robin(each 5 games) and is divided into two groups of six teams. A total of eight teams of the top four teams will make the tournament from the quarter-final match-up scheme.
Venue of the 1st Congress initially | (round-robin in Taiwan and Japan, Final tournament in Japan) was scheduled to be held at any Japan in collaboration with the Taiwan , and WBSC Nippon Professional Baseball for negotiations by surface conditions (NPB) has difficulties, WBSC policy change is solely held in Taiwan. Was abandoned Japan held the NPB.
If the "baseball-softball" competition becomes a part of the 2020 Summer Olympics, the Olympic qualifying tournament will be the 2019 Premier 12.
Coverage of the IBAF announced later, world baseball softball more it has been referred to as "WBSC Premier 12" by the launch of the Federation.
Participants
Edit
The following twelve national teams has been chosen to participate in the inaugural 2015 WBSC Premier 12, based on world rankings made on November 22, 2014.
See also
Edit
References
Edit
External links
Edit
International Baseball
IBAF • World Rankings
Major World Events
Minor World Events
Defunct World Events
Africa

    

Americas

    

Asia

    

Europe

    

Oceania

    
Ad blocker interference detected!
Wikia is a free-to-use site that makes money from advertising. We have a modified experience for viewers using ad blockers

Wikia is not accessible if you've made further modifications. Remove the custom ad blocker rule(s) and the page will load as expected.