Ad blocker interference detected!
Wikia is a free-to-use site that makes money from advertising. We have a modified experience for viewers using ad blockers

Wikia is not accessible if you've made further modifications. Remove the custom ad blocker rule(s) and the page will load as expected.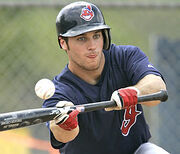 Trevor Crowe (born November 17, 1983, in Portland, Oregon) is a baseball player who is currently a top prospect in the Cleveland Indians organization. He was born on the same day as major league stars Ryan Braun and Nick Markakis. He started the 2007 season as the Akron Aeros' starting center fielder. After an unsuccessful experiment at second base beginning in late August of 2006, Crowe was moved permanently back to the outfield, rotating between all 3 outfield positions.
Crowe was drafted by Cleveland 14th overall in the 2005 Major League Baseball entry draft out of the University of Arizona. He was originally drafted out of Westview High School but not signed by the Oakland Athletics in the 20th round of the 2002 entry draft. Crowe was named to the 2006 Carolina League All-Star game but was unable to participate due to injury. Another Oregonian and Crowe's 2005 Pac-10 Co-Player of the Year, Jacoby Ellsbury was named his replacement.
An all-around athlete, Crowe was a competitive racquetball player in his teenage years and was one of the top players in the nation.
Career statistics
Edit
Stats
Season
Team
League
G
AB
R
H
2B
3B
HR
RBI
BB
SO
SB
CS
OBP
SLG
AVG
2003
Arizona
NCAA
53
187
34
59
14
2
2
35
9
32
13
4
.345
.444
.316
2004
Arizona
NCAA
58
203
53
71
13
9
5
33
21
39
26
1
.416
.576
.350
2005
Arizona
NCAA
60
263
83
106
25
15
9
54
36
30
27
6
.477
.715
.403
2005
Mahoning Valley
A
12
51
9
13
2
1
1
6
6
8
4
3
.345
.392
.255
2005
Lake County
A
44
178
18
46
8
2
0
23
18
25
7
5
.327
.326
.258
2005
Akron
AA
3
10
1
1
0
0
0
0
0
3
0
0
.100
.100
.100
2006
Kinston
A
60
219
51
72
15
2
4
31
48
46
29
6
.449
.470
.329
2006
Akron
AA
23
91
13
26
6
1
1
6
10
13
13
3
.356
.407
.286
2006
Peoria
Arizona Fall League
21
79
18
26
2
2
0
6
32
14
18
3
.305
.449
.329
Stats as of February, 2006
External links
Edit