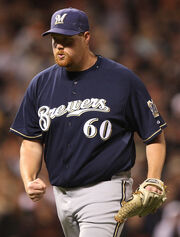 Justin Todd Coffey (born September 9, 1980, in Forest City, North Carolina) is a Major League Baseball relief pitcher for the Milwaukee Brewers He is best known for his full-speed sprints from the bullpen to the mound when he is brought into games.[1] As a result, the Brewers have introduced a "Coffey Time!" graphic on the scoreboard that keeps track of Coffey's time to sprint from the bullpen to the pitcher's mound after getting called out to pitch.[1]
Baseball career
Edit
Coffey was drafted by the Cincinnati Reds in the 41st round of the 1998 Major League Baseball Draft out of Chase High School in Forest City, NC.[2] He made his major league debut on April 19, 2005, for the Reds[2], pitching 2 innings and giving up two runs against the Chicago Cubs.[3]
On September 9, 2008, Coffey was designated for assignment by the Reds[4] and claimed by the Milwaukee Brewers on September 12.[5] On December 8, 2008, Coffey agreed to a one-year deal with the Brewers, avoiding arbitration.[6]
On April 22, 2009, Coffey made an appearance as closer; he held the role until Trevor Hoffman returned from injury.[7]
References
Edit
↑ 1.0 1.1 Milwaukee Brewers. Chat transcript: Todd Coffey. Retrieved on May 15, 2009.
↑ 2.0 2.1 The Baseball Cube. Todd Coffey - The Baseball Cube. Retrieved on May 15, 2009.
↑ Baseball-Reference. April 19, 2005 Chicago Cubs at Cincinnati Reds Box Score and Play by Play. Retrieved on May 15, 2009.
↑ TSN. MLB - Todd Coffey. Retrieved on May 15, 2009.
↑ McCalvy, Adam. Brewers, Coffey reach one-year deal. Retrieved on May 15, 2009.
↑ McCalvy, Adam. Coffey closing, but cool with any role. Retrieved on May 15, 2009.
External links
Edit
Ad blocker interference detected!
Wikia is a free-to-use site that makes money from advertising. We have a modified experience for viewers using ad blockers

Wikia is not accessible if you've made further modifications. Remove the custom ad blocker rule(s) and the page will load as expected.