Suwon KT Wiz Park


Location
Suwon, South Korea
Coordinates
Template:Geobox coor
Built
October 1988
Opened
April 2, 1989
Surface
Natural Grass
Capacity
20,000
Field dimensions
Left Field - 95 meters (312 ft)
Left-Center - 115 meters (377 ft)
Center Field - 120 meters (394 ft)
Right-Center - 115 meters (377 ft)
Right Field - 95 meters (312 ft)
Outfield Wall Height - 2.5 meters (8 ft)
Tenants
KT Wiz (KBO) (2015-)
Hyundai Unicorns (2000-2007)
Suwon Baseball Stadium (수원야구장), currently known by its sponsorship name Suwon KT Wiz Park, is a baseball stadium in Suwon, South Korea. This stadium was the home of the Hyundai Unicorns of the Korea Baseball Organization from 2000 to 2007, but that team became the Nexen Heroes and moved their home stadium to Mokdong Baseball Stadium. The stadium has a capacity of around 20,000 people. This stadium is a facility of the Suwon Sports Complex. Suwon Baseball Stadium is now the home of the KT Wiz.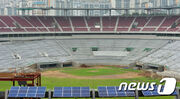 This page has been copied from Wikipedia under the provisions of the GNU Free Documentation License.
Please help Baseball Wiki by revising it.
Ad blocker interference detected!
Wikia is a free-to-use site that makes money from advertising. We have a modified experience for viewers using ad blockers

Wikia is not accessible if you've made further modifications. Remove the custom ad blocker rule(s) and the page will load as expected.