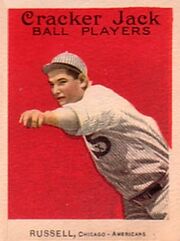 Ewell Albert "Reb" Russell was a pitcher for the Chicago White Sox.
As a rookie sensation with the White Sox in 1913, Russell was 22-16 (1.91). Although he never matched those figures, he was 18-11 in 1916 and led the AL in winning percentage (.750) with a 15-5 mark for the World Champion Sox of 1917. Released with a dead arm early in 1919, he returned to the ML as an outfielder with Pittsburgh in 1922, hitting .368 with 12 home runs and 75 RBI in only 60 games.[1]
External link
Edit
Ad blocker interference detected!
Wikia is a free-to-use site that makes money from advertising. We have a modified experience for viewers using ad blockers

Wikia is not accessible if you've made further modifications. Remove the custom ad blocker rule(s) and the page will load as expected.