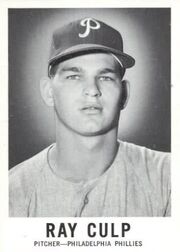 Raymond Leonard Culp (born August 6, 1941 in Elgin, Texas) was a pitcher for the Philadelphia Phillies (1963-66), Chicago Cubs (1967), and Boston Red Sox (1968-73).
Accomplishments and statistics
Edit
He was named to the 1963 National League All-Star Team and the 1969 American League All-Star Team.
He led the National League in walks allowed (102) in 1963.
He led the National League in hit batsmen (12) in 1965 and the American League (11) in 1970.
He ranks 99th on the MLB (Major League Baseball) career hits allowed per 9 innings pitched list (7.95).
He ranks 95th on the MLB career strikeouts per 9 innings pitched list (6.69).
In 11 seasons he had a 122-101 Win-Loss record, 322 Games, 268 Games Started, 80 Complete Games, 22 Shutouts, 21 Games Finished, 1 Save, 1,898 ⅓ Innings Pitched, 1,677 Hits Allowed, 863 Runs Allowed, 755 Earned Runs Allowed, 188 Home Runs Allowed, 752 Walks Allowed, 1,411 Strikeouts, 70 Hit Batsmen, 73 Wild Pitches, 8,066 Batters Faced, 58 Intentional Walks, 3 Balks and a 3.58 ERA.
Ad blocker interference detected!
Wikia is a free-to-use site that makes money from advertising. We have a modified experience for viewers using ad blockers

Wikia is not accessible if you've made further modifications. Remove the custom ad blocker rule(s) and the page will load as expected.