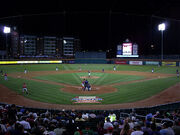 Northeast Delta Dental Stadium,(formerly known as MerchantsAuto.com Stadium before 2011) is a minor league ballpark in downtown Manchester, New Hampshire. It is currently home to the New Hampshire Fisher Cats of the Double-A Eastern League. It seats 7,722 fans.
Northeast Delta Dental Stadium broke ground on May 7, 2004. The cost of construction was $20 million. The first game was played on April 7, 2005 between the Fisher Cats and the New Britain Rock Cats. It has hosted 2 Eastern League All-Star games in its tenure. Bob Dylan performed at the stadium on August 27, 2006.
Northeast Delta Dental stadium is built along the Merrimack River, but faces downtown Manchester. The Hilton Garden Inn looms beyond the left-center field wall. The Sam Adams Bar and Grill indide the park sells food and drinks.
Ad blocker interference detected!
Wikia is a free-to-use site that makes money from advertising. We have a modified experience for viewers using ad blockers

Wikia is not accessible if you've made further modifications. Remove the custom ad blocker rule(s) and the page will load as expected.