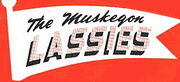 The Muskegon Lassies were an all-women baseball team in the All-American Girls Professional Baseball League representing Muskegon, Michigan. They were an expansion team, debuting in 1946. They went 46-66 in their first season and placed 6th in the eight-team league. They went on to win a close pennant race in 1947 with a 69-43 record. Doris Sams was Player of the year that year. They lost in the first round of the playoffs to the Racine Belles.
In 1950 they were last in the league with a 36-73-2 record and relocated to Kalamazoo, Michigan in the middle of the season, where they became the Kalamazoo Lassies.
Ad blocker interference detected!
Wikia is a free-to-use site that makes money from advertising. We have a modified experience for viewers using ad blockers

Wikia is not accessible if you've made further modifications. Remove the custom ad blocker rule(s) and the page will load as expected.