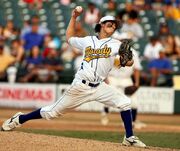 Miguel Gonzalez (born May 27, 1984 in Guadalajara, Mexico) is a professional right-handed baseball pitcher with the Boston Red Sox. Gonzalez was originally signed by the Los Angeles Angels as a rookie free agent in 2005. In 2006 and 2007, he earned a number of honors with the Arkansas Travelers (Texas League/Double-A). He was out of baseball in 2008 while recovering from a knee injury, but made a comeback in the Mexican Winter League with Mazatlan. Gonzalez was taken in the 2008 Rule 5 draft by the Boston Red Sox. If Gonzalez does not remain on the 25-man roster, he would be returned to the Angels.
Ad blocker interference detected!
Wikia is a free-to-use site that makes money from advertising. We have a modified experience for viewers using ad blockers

Wikia is not accessible if you've made further modifications. Remove the custom ad blocker rule(s) and the page will load as expected.