Ad blocker interference detected!
Wikia is a free-to-use site that makes money from advertising. We have a modified experience for viewers using ad blockers

Wikia is not accessible if you've made further modifications. Remove the custom ad blocker rule(s) and the page will load as expected.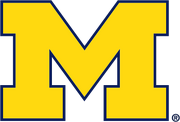 The
Michigan Wolverines baseball
team represents the
University of Michigan
in
NCAA
Division I
college baseball
. Along with most other Michigan athletic teams, the baseball team participates in the
Big Ten Conference
. The Wolverines play their home games in
Ray Fisher Stadium
and they are currently coached by
Rich Maloney
.
The Wolverines play their home games in Ray Fisher Stadium. The stadium is named after Ray Fisher, who is the winningest coach in Michigan baseball history, with 636 wins and also the 1953 College World Series championship.
Head coaches
Edit
Year-by-year results
Edit
*Through the end of the 2008 season.
Information Source: http://www.mgoblue.com/baseball/article.aspx?id=66154
Year-by-Year Results
Year
Coach
Record
Notes
1866
No Coach
3-0
1867
No Coach
4-1
1868
No Coach
2-0
1869
No Records Available
1870
1871
1872
No Coach
1-0
1873
No Records Available
1874
1875
No Coach
2-2
1876
No Records Available
1877
No Coach
1-1
1878
No Coach
1-0
1879
No Records Available
1880
No Coach
2-4
1881
No Coach
3-3
1882
No Coach
10-3
1883
No Coach
3-3
1884
No Coach
8-1-1
1885
No Coach
2-1
1886
No Coach
5-2
1887
No Coach
3-4
1888
No Coach
6-3-1
1889
No Coach
4-3
1890
No Coach
8-3
1891
Peter Conway
10-3
1892
Peter Conway
12-6-1
1893
No Coach
14-4
1894
No Coach
11-8
1895
No Coach
19-3-1
1896
Frank Sexton
17-4-1
1897
C.F. Watkins
4-8
1898
C.F. Watkins / H.T. Clarke
15-6
1899
H.T. Clarke
14-5
1900
C.F. Watkins
12-9-1
1901
Frank Sexton
1902
Frank Sexton
1903
R.C "Skel" Roach
1904
Jerome Utley
1905
L.W. McAllister
1906
L.W. McAllister
1907
R.L. Lowe
1908
L.W. McAllister
1909
L.W. McAllister
1910
Branch Rickey
1911
Branch Rickey
1912
Branch Rickey
1913
Branch Rickey
1914
Carl Lundgren
1915
Carl Lundgren
1916
Carl Lundgren
1917
Carl Lundgren
No Season Due to World War I
1918
Carl Lundgren
1919
Carl Lundgren
1920
Carl Lundgren
1921
Ray Fisher
1922
Ray Fisher
1923
Ray Fisher
1924
Ray Fisher
1925
Ray Fisher
1926
Ray Fisher
1927
Ray Fisher
1928
Ray Fisher
1929
Ray Fisher
1930
Ray Fisher
1931
Ray Fisher
1932
Ray Fisher
1933
Ray Fisher
1934
Ray Fisher
1935
Ray Fisher
1936
Ray Fisher
1937
Ray Fisher
1938
Ray Fisher
1939
Ray Fisher
1940
Ray Fisher
1941
Ray Fisher
1942
Ray Fisher
1943
Ray Fisher
1944
Ray Fisher
1945
Ray Fisher
1946
Ray Fisher
1947
Ray Fisher
1948
Ray Fisher
1949
Ray Fisher
1950
Ray Fisher
1951
Ray Fisher
1952
Ray Fisher
1953
Ray Fisher
21-9
College World Series (Champions)
1954
Ray Fisher
22-9
1955
Ray Fisher
17-11-1
1956
Ray Fisher
17-9
1957
Ray Fisher
17-7
1958
Ray Fisher
18-12
1959
Don Lund
10-17-2
1960
Don Lund
19-12-1
1961
Don Lund
20-11
1962
Don Lund
31-13
College World Series (Champions)
1963
Moby Benedict
21-11
1964
Moby Benedict
19-16
1965
Moby Benedict
18-14
1966
Moby Benedict
22-11
1967
Moby Benedict
24-12
1968
Moby Benedict
17-16
1969
Moby Benedict
14-21-1
1970
Moby Benedict
16-18
1971
Moby Benedict
23-13-1
1972
Moby Benedict
18-13-1
1973
Moby Benedict
22-16
1974
Moby Benedict
18-14-1
1975
Moby Benedict
28-12
1976
Moby Benedict
22-19-1
1977
Moby Benedict
33-15
1978
Moby Benedict
30-17
College World Series (5th Place)
1979
Moby Benedict
22-14
1980
Bud Middaugh
36-18-1
College World Series (5th Place)
1981
Bud Middaugh
41-20
College World Series (7th Place)
1982
Bud Middaugh
44-10
1983
Bud Middaugh
50-9
College World Series (3rd Place)
1984
Bud Middaugh
43-20
College World Series (7th Place)
1985
Bud Middaugh
55-10
1986
Bud Middaugh
47-12
1987
Bud Middaugh
52-12
1988
Bud Middaugh
48-19
1989
Bud Middaugh
49-16
1990
Bill Freehan
33-24
1991
Bill Freehan
34-23-1
1992
Bill Freehan
21-32
1993
Bill Freehan
25-30
1994
Bill Freehan
29-29
1995
Bill Freehan
24-29
1996
Geoff Zahn
24-30
1997
Geoff Zahn
36-22
1998
Geoff Zahn
21-27-1
1999
Geoff Zahn
34-30
2000
Geoff Zahn
20-32-1
2001
Geoff Zahn
28-28
2002
Chris Harrison
21-32
2003
Rich Maloney
30-27
2004
Rich Maloney
34-26
2005
Rich Maloney
42-19
2006
Rich Maloney
43-21
2007
Rich Maloney
42-19
2008
Rich Maloney
46-14
Michigan in the NCAA Tournament
Edit
| Year | Record | Pct | Notes |
| --- | --- | --- | --- |
| 1953 | | | |
| 1961 | | | |
| 1962 | | | |
| 1975 | | | |
| 1976 | | | |
| 1977 | | | |
| 1978 | | | |
| 1980 | | | |
| 1981 | | | |
| 1983 | | | |
| 1984 | | | |
| 1985 | | | |
| 1986 | | | |
| 1987 | | | |
| 1988 | | | |
| 1989 | | | |
| 1999 | | | |
| 2005 | | | |
| 2006 | | | |
| 2007 | | | |
| 2008 | | | |
| TOTALS | ' | ' | |