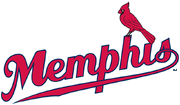 The Memphis Redbirds are the AAA minor league affiliate of the St.Louis Cardinals. The Redbirds play in the Pacific Coast League and call Auto Zone Park home. Auto Zone park was the host of the 2007 Civil Rights game between the St.Louis Cardinals and the Cleveland Indians, where the Cardinals came out on top.Memphis has brought up many of the Cardinal stars such as Albert Pujols,Adam Wainright,Rick Ankiel,Ryan Ludwick,and Skip Schumaker.
External Links
Edit
Ad blocker interference detected!
Wikia is a free-to-use site that makes money from advertising. We have a modified experience for viewers using ad blockers

Wikia is not accessible if you've made further modifications. Remove the custom ad blocker rule(s) and the page will load as expected.