Ad blocker interference detected!
Wikia is a free-to-use site that makes money from advertising. We have a modified experience for viewers using ad blockers

Wikia is not accessible if you've made further modifications. Remove the custom ad blocker rule(s) and the page will load as expected.
About Baseball Wiki
Baseball Wiki is the free baseball encyclopedia that anyone can edit. Baseball Wiki has articles about almost anything that's everything related to the sport, baseball, from Minor League Baseball to Major League Baseball, from baseball players to baseball coaches and managers, from baseball stadiums to the history of baseball, and very much more from the past, present, and even the future of baseball.
Baseball Wiki can be edited and changed by anyone, and is growing every single day. Sports Memorabilia display cases Baseball Wiki has the collaborative attempt to become one of best sites for information about anything related to baseball so its readers will be able to learn anything they want to learn about baseball. You can help! Create an account today and start editing articles to improve the quality of Baseball Wiki! If you want to request an article be added to the Wiki , see here.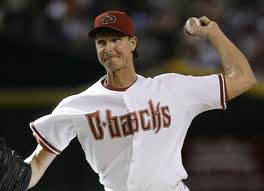 Randall David Johnson (born September 10, 1963 in Walnut Creek, California), is a left-handed starting pitcher for the San Francisco Giants. He is noted for his stature (at 6 ft 10 in, he was the tallest player in the history of MLB, until the 2002 debut of Jon Rauch) and having one of the most dominant fastballs in the game, regularly approaching, and occasionally even exceeding, 100 mph during his prime. He has won the Cy Young Award five times, second only to Roger Clemens' seven.
Major League Baseball RSS Feed
Loading RSS data...
Encyclopedia
Contribute to Baseball Wiki
Community