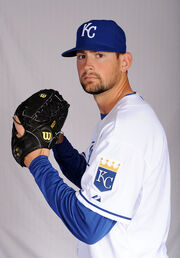 Luke Anthony Hochevar (Template:PronEng; born September 15, 1983, Denver, Colorado[1]) is a Major League Baseball pitcher, currently playing for the Kansas City Royals. While attending Fowler High School (Fowler, Colorado), he was the 2A Player of the Year (senior year). Also during his senior year, he was a member of the National Honor Society and he was crowned Prom King. He throws and bats right handed. He is an alumnus of the University of Tennessee. He made his Major League debut September 8, 2007 in a game against the New York Yankees.
MLB Draft
Edit
Hochevar was selected by Los Angeles Dodgers in 39th Round (1171st overall) of the 2002 MLB amateur entry draft, but did not sign. The Dodgers would select Hochevar again, this time in the 1st Round (40th overall) of the 2005 MLB amateur entry draft. After heated, desperate negotiations between the Dodgers, Hochevar and his agent, Scott Boras, Hochevar suddenly switched agents to Matt Sosnick, accepted a $2.98 million signing bonus from scouting director Logan White, then returned to Boras the next day and reneged on the deal. Several months of lukewarm talks continued with Hochevar pitching in an independent league, but amidst much bitterness, the two sides never came close to reaching a new agreement.
He re-entered the draft again in 2006 and was selected first overall by the Kansas City Royals to the dismay of some fans who felt he should not be rewarded for his repeated post-draft holdouts and controversies, and others who felt he simply was not the best pitcher available. On August 3, nearly two months after the draft, Hochevar signed a four-year major league contract worth $5.3 million guaranteed with the Royals. He received a $3.5 million signing bonus with the ability to earn as much as $7 million over the four years.
References
Edit
External links
Edit
Ad blocker interference detected!
Wikia is a free-to-use site that makes money from advertising. We have a modified experience for viewers using ad blockers

Wikia is not accessible if you've made further modifications. Remove the custom ad blocker rule(s) and the page will load as expected.