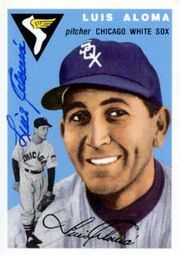 Luis Aloma Barba (July 23, 1923 - April 7, 1996), nicknamed "Witto", was a relief pitcher in Major League Baseball who played for the Chicago White Sox from 1950 through 1953. Aloma batted and threw right handed. He was born in Havana, Cuba.
In a four-season career, Aloma posted an 18-3 record with a 3.44 ERA and 15 saves in 116 games pitched.
Aloma died in Park Ridge, Illinois at 73 years of age.
External link
Edit
Ad blocker interference detected!
Wikia is a free-to-use site that makes money from advertising. We have a modified experience for viewers using ad blockers

Wikia is not accessible if you've made further modifications. Remove the custom ad blocker rule(s) and the page will load as expected.