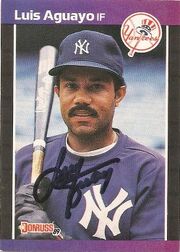 Luis Aguayo (Born March 13, 1959 in Vega Baja, Puerto Rico) is a former major league baseball player. An infielder, Aguayo played with the Philadelphia Phillies from 1980 to 1988. During the 1988 season, Aguayo was traded for pitcher Amalio Carreno to the New York Yankees. As a free agent, Aguayo signed with the Cleveland Indians for the 1989 season. Aguayo preformed poorly, and was released by the team and has never since resigned. His career batting average is .236.
References
Edit
Ad blocker interference detected!
Wikia is a free-to-use site that makes money from advertising. We have a modified experience for viewers using ad blockers

Wikia is not accessible if you've made further modifications. Remove the custom ad blocker rule(s) and the page will load as expected.