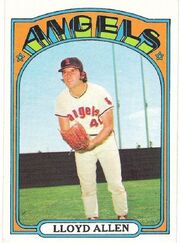 Lloyd Cecil Allen (born May 8, 1950 in Merced, California) was a Pitcher for the California Angels (1969-73), Texas Rangers (1973-74) and Chicago White Sox (1974-75).
In seven seasons he had an 8-25 Win-Loss record, 159 Games, 19 Games Started, 75 Games Finished, 22 Saves, 297 ⅓ Innings Pitched, 291 Hits Allowed, 183 Runs Allowed, 155 Earned Runs Allowed, 19 Home Runs Allowed, 196 Walks Allowed, 194 Strikeouts, 11 Hit Batsmen, 27 Wild Pitches, 1,366 Batters Faced, 18 Intentional Walks, 2 Balks and a 4.69 ERA.
Ad blocker interference detected!
Wikia is a free-to-use site that makes money from advertising. We have a modified experience for viewers using ad blockers

Wikia is not accessible if you've made further modifications. Remove the custom ad blocker rule(s) and the page will load as expected.