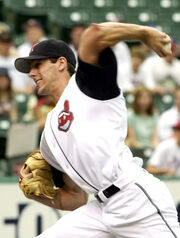 DeWain Lee Stevens (born July 10, 1967 in Kansas City, Missouri) is a former first baseman drafted by the California Angels out of Lawrence High School (Kansas) in the first round of the 1986 amateur draft in Major League Baseball who played from 1990 to 1992 and from 1996 to 2002 for the California Angels, Texas Rangers, Montreal Expos, and Cleveland Indians. He batted .300 for the 1997 Rangers. Stevens also played two seasons for the Kintetsu Buffaloes in Japan (1993-1994).
To this day, the trees behind the outfield fence at Ice Field at Lawrence High School are called "Lee's Trees".
External links
Edit
Ad blocker interference detected!
Wikia is a free-to-use site that makes money from advertising. We have a modified experience for viewers using ad blockers

Wikia is not accessible if you've made further modifications. Remove the custom ad blocker rule(s) and the page will load as expected.