Ad blocker interference detected!
Wikia is a free-to-use site that makes money from advertising. We have a modified experience for viewers using ad blockers

Wikia is not accessible if you've made further modifications. Remove the custom ad blocker rule(s) and the page will load as expected.
This page has been copied from Wikipedia under the provisions of the GNU Free Documentation License.
Please help Baseball Wiki by revising it.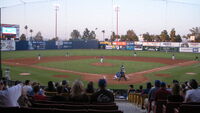 This is a list of seasons completed by the Las Vegas 51s baseball club of the Pacific Coast League. The list documents the 51s records from 1983 to the present, including postseason performance. The club was founded as after relocating from Spokane, Washington to Las Vegas, Nevada in 1983 and was named the Stars. The team began life as the Portland Beavers in 1919 and moved to Spokane to become the Spokane Indians in 1973, before relocating again to Nevada in 1983. After being known as the "Stars" for eighteen seasons, the club officially changed its name to "51s" in 2001, following a change in affiliation from the San Diego Padres to the Los Angeles Dodgers.
Year by Year
Edit
Season
Affiliate
Conference
Division
Regular Season
Postseason
Awards
Finish[a]
Wins
Losses
Win%
GB
Las Vegas Stars
1983
SD
Southern
1st
45
26
–
Lost in Semifinals, 2–3 (Albuquerque)
Kevin McReynolds (MVP)[d]
3rd
38
34
6
1984
SD
Southern
1st
42
28
–
Lost in Semifinals, 0–3 (Hawaii)
4th
29
37
14.5
1985
SD
Southern
5th
32
40
10.5
3rd
33
39
10
1986
SD
Southern
3rd
36
34
.563
1
Won in Semifinals, 3–2 (Phoenix)
Won PCL Championship, 3–2 (Vancouver)
Tim Pyznarski (MVP)[d]
1st
44
28
–
1987
SD
Southern
5th
32
40
12
Lost in Semifinals, 0–3 (Albuquerque)
1st
37
33
–
1988
SD
Southern
1st
41
29
–
Won in Semifinals, 3–0 (Albuquerque)
Won PCL Championship, 3–1 (Vancouver)
Sandy Alomar, Jr. (MVP)[d]
2nd
33
37
14.5
1989
SD
Southern
2nd
36
35
6.5
Sandy Alomar, Jr. (MVP)[d]
2nd
38
34
6.5
1990
SD
Southern
4th
29
43
17.5
4th
29
43
16.5
1991
SD
Southern
4th
36
34
8
4th
29
41
14
1992
SD
Southern
1st
41
31
–
Lost in Semifinals, 2–3 (Colorado Springs)
Don Logan (EOY)[e]
3rd
33
39
15
1993
SD
Southern
5th
32
40
6.5
5th
26
45
18.5
1994
SD
Southern
5th
28
45
11.5
5th
28
42
17.5
1995
SD
Southern
5th
26
46
13
5th
35
37
15
1996
SD
Southern
4th
31
37
6
Lost in Semifinals, 0–3 (Phoenix)
1st
42
30
–
1997
SD
Southern
5th
25
46
21.5
2nd
31
39
17.5
1998[f]
SD
Pacific
South
3rd
70
72
8.5
Don Logan (EOY)[e]
1999
SD
Pacific
South
3rd
67
75
6.5
2000
SD
Pacific
South
2nd
73
70
16.5
Las Vegas 51s
2001
LAD
Pacific
South
3rd
68
76
7
Phil Hiatt (MVP)[d]
2002
LAD
Pacific
Southern
1st
85
59
–
Lost in Conference Finals, 1–3 (Edmonton)
Brad Mills (MOY)[g]
2003
LAD
Pacific
Southern
2nd
76
66
.535
15
2004
LAD
Pacific
Southern
3rd
67
76
.469
11.5
2005
LAD
Pacific
South
4th
57
86
.399
22.5
2006
LAD
Pacific
South
3rd
67
77
.465
24
2007
LAD
Pacific
South
4th
67
77
.465
17
2008
LAD
Pacific
South
2nd
74
69
.517
9
2009
TOR
Pacific
South
T-3rd
71
73
.493
15.5
Randy Ruiz (MVP)[d]
2010
TOR
Pacific
South
4th
66
78
.458
13
J.P. Arencibia (MVP)[d]
Totals
Wins
Losses
Win%
1,227
1,329
Las Vegas Stars regular season record (1983-2000)
698
737
Las Vegas 51s regular season record (2001-2010)
1,925
2,066
All-time regular season record (1983-2010)
17
23
All-time postseason record
1,942
2,089
All-time regular and postseason record
Footnotes
Edit
References
Edit