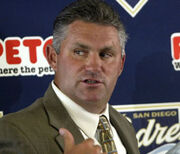 Kevin Towers is general manager of Major League Baseball's San Diego Padres. Born November 11, 1961, and raised in Medford, Oregon[1] [2] [3], Towers was an All-WAC pitcher at BYU and the Padres first round draft choice in 1982.
Minor Leagues
Edit
He pitched seven seasons in San Diego's farm system before a series of arm operations ended his career at the AAA level.
Post-playing career
Edit
Continuing his career in baseball, Towers became a pitching coach for minor league Single-A Spokane Indians from 1989–90 and a Padres scout from 1989–91. After scouting for the Pittsburgh Pirates from 1991–93, Towers rejoined the Padres as scouting director from 1993–95.
General Manager
Edit
Since winning the G.M. role, Towers has led the Padres to four division championships and an appearance in the 1998 World Series.
Ad blocker interference detected!
Wikia is a free-to-use site that makes money from advertising. We have a modified experience for viewers using ad blockers

Wikia is not accessible if you've made further modifications. Remove the custom ad blocker rule(s) and the page will load as expected.