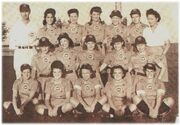 The Kenosha Comets were a women's baseball team in All-American Girls Professional Baseball League from 1943-1951. Although the 1992 movie A League of Their Own features the Kenosha Comets, all of the characters playing on the team were fictional.
The Comets never won the league championship.
Former players
Edit
Ad blocker interference detected!
Wikia is a free-to-use site that makes money from advertising. We have a modified experience for viewers using ad blockers

Wikia is not accessible if you've made further modifications. Remove the custom ad blocker rule(s) and the page will load as expected.