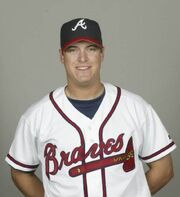 Kelly Andrew Johnson (born February 22, 1982 in Austin, Texas) is a Major League Baseball second baseman who currently plays for the Arizona Diamondbacks.
Professional career
Edit
Atlanta Braves
Edit
Johnson was drafted in the first round (38th overall) of the 2000 Major League Baseball Draft by the Atlanta Braves. Johnson made his Major League debut with the Braves on May 29, 2005 and became a regular outfielder, due to the many injuries that plagued the Braves early in the 2005 season. Johnson was named the National League Player of the Week for the week of June 13 after batting .417 with three home runs and 11 RBIs in 24 at-bats.[1]
An elbow injury sidelined Johnson for the entire 2006 season. He was placed on the disabled list during spring training after experiencing pain while making throws from the outfield, and had Tommy John surgery performed by Dr. James Andrews on June 1.[2] During the offseason, Johnson spent many hours with Braves first base coach Glenn Hubbard at Turner Field to learn how to play second base effectively. Johnson earned the starting position at second base and as the leadoff hitter for the Braves for the 2007 season. He has exceeded all expectations as a second baseman defensively, and has proved to be one of the majors' most productive hitters at his position. On April 8, 2007 Johnson hit the first leadoff homer of his career in a 3-2 win against the New York Mets.[3] In late June, Johnson lost his position as the leadoff hitter in the Braves lineup. In the 48 games Johnson played in May and June, his on-base percentage was .325, well below the acceptable rate for a good leadoff hitter. Willie Harris, who took over the role as primary leadoff hitter, had an on-base percentage of .440 prior to June 22 (Johnson's last game as the leadoff hitter), prompting Braves manager Bobby Cox to make the change.[4] (As of August 10, Johnson had an on-base percentage of .419 since June 22.) In addition to being demoted from the top of the order, Johnson's offensive struggles motivated Cox to move Johnson into a platoon at second base with Yunel Escobar.[5] He capped off his year with 16 homers and a .276 batting average.
With Escobar taking over full-time at shortstop, Johnson began the year as the Braves second baseman for the 2008 season.
Johnson had the longest hitting streak in the National League of the 2008 season, hitting in 22-straight games. He hit .398 with 19 RBIs in 25 games in September.[6] Johnson ended the 2008 season with a .287 batting average, 12 homers, 69 RBIs, 86 runs, and 11 stolen bases.
In 2009, Johnson lost his full-time starting position with the Braves. He increased his contact rate on pitches inside the strike zone, as well as swinging at more pitches outside the strike zone. This pattern is associated with a less-aggressive swing and was associated with his poor results in 2009. [7]
On December 12 2009, Johnson, was non-tendered by the Atlanta Braves making him a free agent.[8]
Arizona Diamondbacks
Edit
On December 30, 2009, Johnson signed a one year $2.35 million contract with the Arizona Diamondbacks.[9][10] Arizona had previously shown interest in acquiring Johnson from the Braves.[9] Johnson said this about his new team,
"
"[Phoenix is] just a place I've always liked, it's one of the top for me. Just with the team, we've got guys all over the field that are young, athletic, tons of talent. It's one of the places that you come in and you did not want to face the guys that were on the mound.
"
On May 4th, 2010 was awarded the Player of the Month award for the month of April, his first month as a player for the Diamondbacks. He earned the award by hitting nine home runs and a .750 slugging percentage. In his first 22 games, Johnson batted .313 (25-80) with 18 RBI, 17 runs scored and a .404 OBP.[11]
Johnson is married to Lauren Thacker. They were married on January 26, 2008. Kelly and Lauren had their first child, a son named Cole, in November 2009.
References
Edit
External links
Edit
Ad blocker interference detected!
Wikia is a free-to-use site that makes money from advertising. We have a modified experience for viewers using ad blockers

Wikia is not accessible if you've made further modifications. Remove the custom ad blocker rule(s) and the page will load as expected.