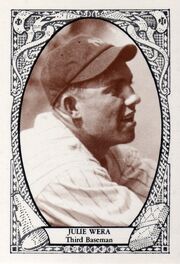 Julian Valentine Wera (February 9, 1902 in Winona, Minnesota – December 12, 1975 in Rochester, Minnesota) was a Major League Baseball third baseman who played for the New York Yankees. He joined the Yankees in 1927 where he was a reserve on the famed Murderer's Row team that won the World Series. He also played briefly on the 1929 Yankee team. He played a total of 43 games for the Yankees in his two-year career, finishing his career with a batting average of .278 and one home run.
External links
Edit
Ad blocker interference detected!
Wikia is a free-to-use site that makes money from advertising. We have a modified experience for viewers using ad blockers

Wikia is not accessible if you've made further modifications. Remove the custom ad blocker rule(s) and the page will load as expected.