This page has been copied from Wikipedia under the provisions of the GNU Free Documentation License.
Please help Baseball Wiki by revising it.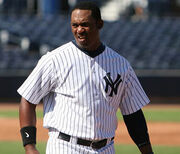 Juan Miguel Miranda (born April 25, 1983) is a Cuban baseball player in the New York Yankees organization. He is currently a first baseman for the Scranton/Wilkes Barre Yankees.
Personal life
Edit
Juan has a son named Edgar Miguel Miranda who was born January, 25, 2007. Juan loves music. He especially loves salsa and hip-hop. He defected to the Dominican Republic in 2004, established residency in 2005 and was granted citizenship there in 2006. In his first few days in America, he visited Walt Disney World in Orlando with Yankees' Director of Dominican Scouting Ramon Valdivia. He claims that it was one of the happiest days of his life
Baseball
Edit
He was on the 2001 Cuban national team, and defected to the Dominican Republic in early 2004. He has since become a Dominican citizen. Although listed as being born in 1983, it has frequently been claimed that he may have been born two years earlier.
Miranda is a left-handed first baseman who hits with some power. He is also able to play in the outfield.
The 5-foot-11 Miranda, who played with ex-Yankee pitcher José Contreras, batted .303 with 27 homers for Pinar Del Rio in Cuba's Serie Nacional from 2002 to 2004.[1]
He signed a four year contract with the Yankees worth $2 million on December 12, 2006.[1][2]
References
Edit
External links
Edit
Ad blocker interference detected!
Wikia is a free-to-use site that makes money from advertising. We have a modified experience for viewers using ad blockers

Wikia is not accessible if you've made further modifications. Remove the custom ad blocker rule(s) and the page will load as expected.