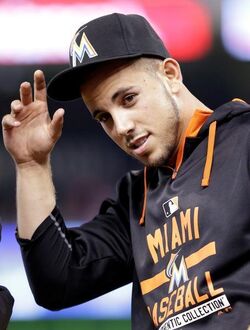 José Delfín Fernández Gómez (July 31, 1992 – September 25, 2016), nicknamed Niño, was a Cuban-born American professional baseball pitcher. He played for the Miami Marlins from 2013 to 2016. He became a two-time All-Star in 2013 and 2016 and won the NL Rookie of the Year Award in 2013.
He died in the middle of his career in 2016 in a boating crash. The Marlins will retire his uniform number to honor him.
Ad blocker interference detected!
Wikia is a free-to-use site that makes money from advertising. We have a modified experience for viewers using ad blockers

Wikia is not accessible if you've made further modifications. Remove the custom ad blocker rule(s) and the page will load as expected.