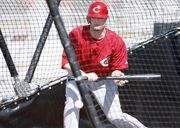 Jonathan Scott Adkins (born August 30, 1977 in Huntington, West Virginia) is a Major League Baseball pitcher. A graduate of Oklahoma State, the right-hander was drafted by the Oakland Athletics in the 9th round of the 1998 amateur draft, and has played in parts of three seasons with the Chicago White Sox. (2003-2005) In April of 2006, he pitched in three games for the San Diego Padres, and was then optioned to the Padres' Triple-A affiliate, the Portland Beavers. On November 15, 2006, Jon was traded to the New York Mets.
Ad blocker interference detected!
Wikia is a free-to-use site that makes money from advertising. We have a modified experience for viewers using ad blockers

Wikia is not accessible if you've made further modifications. Remove the custom ad blocker rule(s) and the page will load as expected.