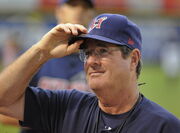 John Duffield Curtis (born March 9, 1948 in Newton, Massachusetts) was a pitcher for the Boston Red Sox (1970-73), St. Louis Cardinals (1974-76), San Francisco Giants (1977-79), San Diego Padres (1980-82) and California Angels (1982-84).
He helped the Angels win the 1982 American League Western Division.
In 15 seasons he had an 89-97 Win-Loss record, 438 Games Pitched (199 Started), 42 Complete Games, 14 Shutouts, 100 Games Finished, 11 Saves, 1,641 Innings Pitched, 1,695 Hits Allowed, 810 Runs Allowed, 722 Earned Runs Allowed, 140 Home Runs Allowed, 669 Walks Allowed, 825 Strikeouts, 13 Hit Batsmen, 74 Wild Pitches, 7,099 Batters Faced, 92 Intentional Walks, 2 Balks and a 3.96 ERA.
Ad blocker interference detected!
Wikia is a free-to-use site that makes money from advertising. We have a modified experience for viewers using ad blockers

Wikia is not accessible if you've made further modifications. Remove the custom ad blocker rule(s) and the page will load as expected.