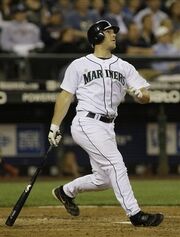 Jeffrey B. Clement' (born August 21, 1983 in Marshalltown, Iowa) is a professional baseball player, a catcher for the Seattle Mariners in the major leagues. Clement was the Mariners' first round draft pick (third overall) in the 2005 Major League Baseball Draft. He made his major league debut on September 4, 2007, and ended up appearing in 9 games, registering 16 at bats.
Amateur career
Edit
Clement was born and raised in Marshalltown, Iowa. As a twelve year old, Clement led the 1996 Marshalltown team to the Little League World Series.
At Marshalltown High School, he broke the national high school home run record, formerly held by Drew Henson. He finished his high school career with 75 home runs. Out of high school, Clement was drafted in the 12th round by the Minnesota Twins (362nd overall) due to a poor performance at a pre-draft showcase. Clement led his high school team as a catcher/pitcher to the Iowa 4-A State Championship game in his senior year (2002). Clement was featured in the September 16, 2002, issue of Sports Illustrated as part of the "For the Love of the Game" article.
Clement then went to USC, where he starred and also played on the U.S. National Team. In his freshman year, he was named Collegiate Baseball Freshman National Co-Player of the Year, Pac-10 Conference Freshman of the Year, earned Baseball America Freshman All-America first team, and Collegiate Baseball Freshman All-American first team honors.
As a sophomore, Clement earned 2004 Baseball America Preseason All-America first team and NCBWA Preseason All-America first team honors, as well as Collegiate Baseball Preseason All-America second team honors. He was also named as a semifinalist for the Johnny Bench Award.
In 2005, he won the Johnny Bench Award as the nation's top collegiate catcher, earned 2005 Baseball America All-America First Team, USA Today Sports Weekly All-America first team and Collegiate Baseball All-America first team honors, as well as 2005 National Collegiate Baseball Writers Association All-America third team honors. Was a Finalist for the 2005 Golden Spikes Award and named All-Pac-10 for the third straight year.
Professional career
Edit
On April 30, 2008, Clement was called up for his second stint in the major leagues by the Mariners. He went 1 for 1 in a pinch hit appearance against the Cleveland Indians. He has appeared in the line-up in May primarily as a designated hitter.
External links
Edit