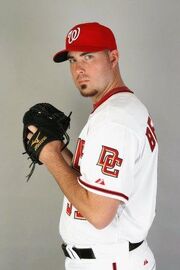 This page has been copied from Wikipedia under the provisions of the GNU Free Documentation License.
Please help Baseball Wiki by revising it.
Jason Bergmann
File:.jpg
.
No.
Position
Born: December 0, 0000
Birthplace
Died:
Batted: Left, right, or both
Threw: Left, right, or both
Professional debut
date for the team
Last professional appearance
date for the team
Career information
High school: high school
( )
College:' college
High school: draft year / Round: / Pick:
by the team
Signed: date by the team
Teams
Career highlights and awards
Member of the Baseball Hall of Fame
Inducted: year
Jason Christopher Bergmann (born September 25, 1981 in Neptune City, New Jersey) is a pitcher for the Washington Nationals baseball team in Major League Baseball.
Bergmann grew up in Manalapan, New Jersey.[1] He played high school baseball at Manalapan High School in Englishtown, New Jersey.[2] In college, he played for Rutgers University. During offseasons, he works as a substitute teacher.
2006 Season
Edit
Bergmann began the 2006 season pitching at the AAA level at the Nationals' affiliate, the New Orleans Zephyrs, but was called up after the Nationals traded Livan Hernandez to the Arizona Diamondbacks.
2007 season
Edit
In 2007 he was converted from a reliever to a starting pitcher by the Nationals. After a disastrous first game (in which he allowed 4 runs on 5 hits and 6 walks in 3⅔ innings), he pitched very well, posting a combined 2.41 over his subsequent six starts, three times pitching six or more innings and allowing two or fewer hits, but, mostly due to lack of run support, no wins.
Finally, on May 14, against the Atlanta Braves Bergmann pitched a gem: he struck out five of the first six batters he faced, pitching seven no-hit innings, and finishing with 8+ innings pitched, allowing just 2 hits, one run, 10 K's, and one walk.[3] It was his first win of the season, and the first win as a starter in his career. By the end of the game, opponents were hitting .162 against Bergmann, best in the majors. After the game, however, he complained of elbow soreness, was put on the 15-day DL, and ended up missing a month, returning on June 26 (throwing four innings, four hits, one run against the Braves).
For the 2007 season as a whole, Bergmann accrued a win-loss record of 6-6 and a 4.45 ERA, striking out 86 batters and walking 42 over 115⅓ innings.
During the 2007-2008 offseason, Bergmann is pitching for Tigres del Licey in the Dominican Winter Baseball League.
References
Edit
↑ Heyman, Brian. "Agonizin' loss for Amazin's", Asbury Park Press, September 26, 2007. "Reyes got one back by rocketing Manalapan native Jason Bergmann's third pitch over the fence in right-center to open the bottom half."
↑ "Sports Shorts ", Farmingdale News Transcript, July 11, 2007. Accessed September 27, 2007. "Jason Bergmann has settled in as a starter for the Washington Nationals. The right-hander from Manalapan High School has a 3.47 earned-run average in his 10 starts for the Nats."
↑ Mike Wise. "Tough Love For Rotation", 'The Washington Post', May 16, 2007, p. 01.
External links
Edit
Ad blocker interference detected!
Wikia is a free-to-use site that makes money from advertising. We have a modified experience for viewers using ad blockers

Wikia is not accessible if you've made further modifications. Remove the custom ad blocker rule(s) and the page will load as expected.