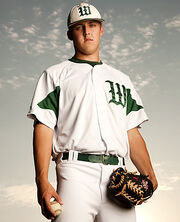 Jameson Taillon (born November 18, 1991 in Winter Haven, Florida) is a pitcher. He attended The Woodlands High School in Texas. Taillon was drafted by the Pittsburgh Pirates as the second overall pick in the 2010 Major League Baseball Draft.[1][2][3] Despite being born in Florida, Taillon is a Canadian citizen and the highest draft pick ever taken from that nation.[4] He caught the attention of Pirates scouts with a high school career during which posted a 22–6 record. He was 8–1 his senior year and threw a 19-strikeout no-hitter against rival Conroe High School on March 23, 2010.[5][6] Fangraphs called Taillon the best high school pitching prospect since Josh Beckett[7], and he has been compared by Baseball America to pitchers like Stephen Strasburg.[8] Pirates general manager Neal Huntington said of Taillon, "He has the stuff that allows you to envision down the road a top-of-the-rotation starter." However, Taillon's commitment to Rice University poses a challenge to the Pirates in their effort to sign him.[9]
References
Edit
External links
Edit
Ad blocker interference detected!
Wikia is a free-to-use site that makes money from advertising. We have a modified experience for viewers using ad blockers

Wikia is not accessible if you've made further modifications. Remove the custom ad blocker rule(s) and the page will load as expected.