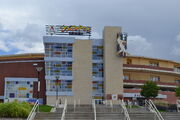 Isotopes Park is a minor league baseball stadium in Albuquerque, New Mexico used by the Los Angeles Dodgers' AAA affiliate, the Albuquerque Isotopes. The stadium has been in use by the Isotopes since 2003. Isotopes Park is part of a sports complex that includes the football stadium, basketball arena, and baseball field of the New Mexico Lobos.
Ad blocker interference detected!
Wikia is a free-to-use site that makes money from advertising. We have a modified experience for viewers using ad blockers

Wikia is not accessible if you've made further modifications. Remove the custom ad blocker rule(s) and the page will load as expected.