Ad blocker interference detected!
Wikia is a free-to-use site that makes money from advertising. We have a modified experience for viewers using ad blockers

Wikia is not accessible if you've made further modifications. Remove the custom ad blocker rule(s) and the page will load as expected.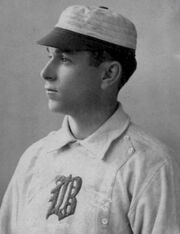 Hugh Duffy (November 26, 1866 – October 19, 1954) was a 19th century Major League Baseball player. He was born in Cranston, Rhode Island.
Duffy entered the National League with the Chicago White Stockings in 1888 and shortly thereafter earned the reputation of an outstanding outfielder and powerful hitter. He switched leagues, joining the American Association's Boston Reds in 1891; he then returned to the NL with the Boston Beaneaters in 1892, where he enjoyed his best seasons. Playing in Boston from 1891 until 1900, Duffy knocked in 100 runs or more 8 times. In 1894 Duffy had one of the greatest seasons in baseball history, leading the league with 18 home runs, with 145 RBI and a .440 batting average (see Triple crown). Duffy's .440 average is the Major League single season batting average record. It was originally listed as .438, but modern researchers for the Society for American Baseball Research (SABR) determined it was really .440 . He played with two other Hall of Fame outfielders during his career, Tommy McCarthy (as half of the "Heavenly Twins") and Billy Hamilton. Duffy finished his career in 1906 with 106 home runs which was, at the time, one of the highest career totals ever.
Duffy managed the 1920 Toronto Maple Leafs to a .701 winning percentage — the best in the team's 83-year history, but still only good enough for second place in the International League.
He later became a scout for the Boston Red Sox from 1924 to 1953.
Duffy was inducted into the Baseball Hall of Fame in 1945.
Career statistics
Edit
See:Career Statistics for a complete explanation.
| | | | | | | | | | | | | |
| --- | --- | --- | --- | --- | --- | --- | --- | --- | --- | --- | --- | --- |
| G | AB | H | 2B | 3B | HR | R | RBI | BB | SO | AVG | OBP | SLG |
| 1,737 | 7,042 | 2,282 | 325 | 119 | 106 | 1,552 | 1,302 | 662 | 211 | .324 | .384 | .449 |
Footnotes
Edit
External links
Edit