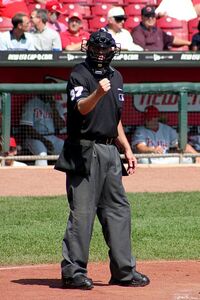 Gary Richard Darling (born October 9 1957 in San Francisco, California) is an umpire in Major League Baseball. After beginning his career in the National League from 1986 to 1999, he has worked throughout both major leagues since 2002. He wears uniform number 37.
He has umpired in the 2003 World Series and in the National League Championship Series (1992, 2004, 2006) as well as two All-Star Games (1993, 2003) and six Division Series (1995, 1997, 1998, 2002, 2003, 2005).
External link
Edit
Ad blocker interference detected!
Wikia is a free-to-use site that makes money from advertising. We have a modified experience for viewers using ad blockers

Wikia is not accessible if you've made further modifications. Remove the custom ad blocker rule(s) and the page will load as expected.