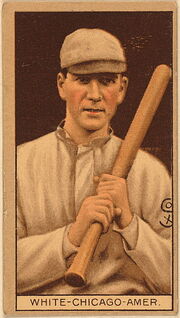 Guy Harris "Doc" White (April 9, 1879 - February 19, 1969) was an American left-handed pitcher in Major League Baseball. He played for two teams, the Philadelphia Phillies and the Chicago White Sox, during his career which lasted from 1901 to 1913.
Born in Washington, D.C., "Doc" White was a graduate of a dental school in Georgetown.
He led the league in ERA in 1906 with 1.52 and wins in 1907 with 27.
White died at age 89 in Silver Spring, Maryland, just 8 months after witnessing Don Drysdale surpass his record of 45 consecutive scoreless innings on June 4, 1968.
External link
Edit
Ad blocker interference detected!
Wikia is a free-to-use site that makes money from advertising. We have a modified experience for viewers using ad blockers

Wikia is not accessible if you've made further modifications. Remove the custom ad blocker rule(s) and the page will load as expected.