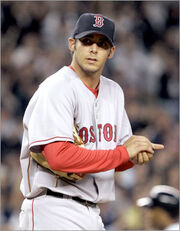 David Pauley
File:.jpg
.
No.
Position
Born: December 0, 0000
Birthplace
Died:
Batted: Left, right, or both
Threw: Left, right, or both
Professional debut
date for the team
Last professional appearance
date for the team
Career information
High school: high school
( )
College:' college
High school: draft year / Round: / Pick:
by the team
Signed: date by the team
Teams
Career highlights and awards
Member of the Baseball Hall of Fame
Inducted: year
David Wayne Pauley (born June 17, 1983 in Longmont, Colorado) is a pitcher who plays with the Boston Red Sox organization. He bats and throws right handed. Pauley is a graduate of Longmont High School.
An eighth round pick by San Diego in 2001, Pauley posted a 7-12 record with a 4.17 ERA for the Padres as their seventh best prospect in 2004. On December 20, 2004 the Padres traded Pauley along with Jay Payton, Ramón Vázquez, and cash to the Boston Red Sox for Dave Roberts.
As a member of the Portland Sea Dogs rotation in 2005, he went 9-7 with 104 strikeouts and a 3.81 ERA in 156.0 innings pitched.
Pauley started 2006 in Portland. He posted a 2-3 with a 2.39 ERA in 10 starts for the Sea Dogs before making his major league debut on May 31 starting for Boston in place of the injured David Wells. He pitched 4.1 innings against the Toronto Blue Jays and did not record a decision. Within his 16 innings pitched for the Boston Red Sox, Pauley recorded a 7.88 ERA.
Pauley spent the entire 2007 season playing for the Pawtucket Red Sox. The Red Sox invited him to spring training in 2008, but was sent back to the minors on March 8, 2008[1]
In 2007, Pauley was rated by Baseball America as the number 26 prospect in the Red Sox farm system. Pauley is a sinkerball pitcher, and as such his success relies on his ability to keep the ball down in the strike zone, and when contact is made, to get ground-ball outs. Pauley also has the standard fastball, curveball, and changeup in his repertoire. His fastball hits the high 80's, and his curveball has more of a sweeping motion than the standard 12-to-6 movement seen from most minor-league pitchers. The pitcher he most resembles is Derek Lowe, a former Red Sox sinkerballer himself and starter for the Los Angeles Dodgers.
References
Edit
↑ Recent Transactions. Boston Globe. Retrieved on 2008-03-08.

]]
Ad blocker interference detected!
Wikia is a free-to-use site that makes money from advertising. We have a modified experience for viewers using ad blockers

Wikia is not accessible if you've made further modifications. Remove the custom ad blocker rule(s) and the page will load as expected.