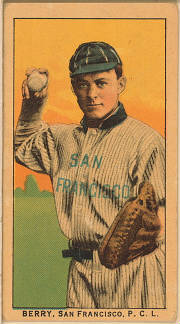 Claude Elzy Berry (February 14, 1880 - February 1, 1974) born in Losantville, Indiana was a Catcher for the Chicago White Sox (1904), Philadelphia Athletics (1906-07) and Pittsburgh Rebels (1914-15).
In 5 seasons he played in 245 Games and had 753 At Bats, 72 Runs, 165 Hits, 31 Doubles, 10 Triples, 3 Home Runs, 65 RBI, 14 Stolen Bases, 60 Walks, .219 Batting Average, .279 On-base percentage, .299 Slugging Percentage, 225 Total Bases and 30 Sacrifice Hits.
He died in Richmond, Indiana at the age of 93.
Ad blocker interference detected!
Wikia is a free-to-use site that makes money from advertising. We have a modified experience for viewers using ad blockers

Wikia is not accessible if you've made further modifications. Remove the custom ad blocker rule(s) and the page will load as expected.