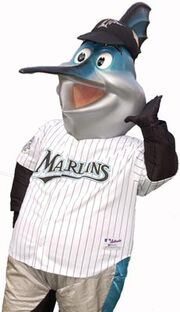 Billy The Marlin is the official mascot of the Florida Marlins.
Resembling a marlin with limbs, he can be seen at every Marlins home game. He competes in a waterboat race, which is a computer-animated video shown on the screen, during each game. The name, picked by original team owner Wayne Huizenga, is derived from the fact that a marlin is a Billfish, and Huizenga wanted a name that was different from the baseball type names of other mascots (like Slider and Sluggerrr) and one that children could remember more easily. On Mothers Day and Father's Day, Billy is joined by his parents, Bill Sr. and Betty the Marlin. Billy is also seen at games dancing with kids on the field in between innings and making special appearances in the Fan Zone.
On Opening Day of 1997, the year the Marlins won their first World Series Championship, a Navy Seal who was parachuting into Sun Life Stadium (then known as Pro Player Stadium) as Billy, lost the head in mid-air. While the crowd was unaware of the problem, media outlets had been alerted to Billy's parachute entrance. When he didn't arrive, the media ran with the story, getting national attention and leading to ESPN's Dan Patrick's nightly quote, "Bring me the head of Billy the Marlin!"
The original Billy The Marlin was John Routh, who spent 10 years (1993–2002) entertaining Marlins fans.[1] Routh previously portrayed the University of Miami mascots, Sebastian the Ibis and The Miami Maniac from 1983–1993, and prior to that, Cocky for the University of South Carolina Gamecocks.
References
Edit
Ad blocker interference detected!
Wikia is a free-to-use site that makes money from advertising. We have a modified experience for viewers using ad blockers

Wikia is not accessible if you've made further modifications. Remove the custom ad blocker rule(s) and the page will load as expected.