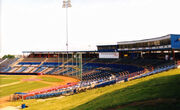 All Sports Stadium was a stadium located at the State Fairgrounds in Oklahoma City, Oklahoma. It was primarily used for baseball and was the home of Oklahoma City 89ers before they moved to AT&T Bricktown Ballpark in 1998. The ballpark had a capacity of 12,000 people and opened in 1961. The stadium was closed in 1997 and was demolished in 2005 [1].
↑ O'Reilly, Charles (1 August 2005). All Sports Stadium, Oklahoma City, Okla.. Retrieved on 27 February 2007.
Ad blocker interference detected!
Wikia is a free-to-use site that makes money from advertising. We have a modified experience for viewers using ad blockers

Wikia is not accessible if you've made further modifications. Remove the custom ad blocker rule(s) and the page will load as expected.