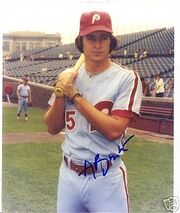 Alan Bannister (born September 3, 1951 in Montebello, California) was a utility player for the Philadelphia Phillies (1974-75), Chicago White Sox (1976-80), Cleveland Indians (1980-83), Houston Astros (1984) and Texas Rangers (1984-85).
Highly touted in college, Bannister was the Phillies' first-round pick in the 1973 draft. Although versatile (he played every position but pitcher and catcher) he never lived up to his college raves and was rarely a regular. Only once, as the 1977 White Sox' shortstop, did he play in over 100 games at a position, and then he led all AL shortstops in errors (40).
He led the American League in Sacrifice Flies (11) in 1977.
In 12 seasons he played in 972 Games and had 3,007 At Bats, 430 Runs, 811 Hits, 143 Doubles, 28 Triples, 19 Home Runs, 288 RBI, 108 Stolen Bases, 292 Walks, .270 Batting Average, .334 On-base percentage, .355 Slugging Percentage, 1,067 Total Bases, 33 Sacrifice Hits, 28 Sacrifice Flies and 13 Intentional Walks.
After his Major League playing career he managed the Rockford Expos, a Montreal Expos affiliate in the Midwest League, during the 1988 season where they had an 84-56 Win-Loss record.
Comedian Jimmy Pardo has named him his favorite baseball player.
External links
Edit
Ad blocker interference detected!
Wikia is a free-to-use site that makes money from advertising. We have a modified experience for viewers using ad blockers

Wikia is not accessible if you've made further modifications. Remove the custom ad blocker rule(s) and the page will load as expected.