Ad blocker interference detected!
Wikia is a free-to-use site that makes money from advertising. We have a modified experience for viewers using ad blockers

Wikia is not accessible if you've made further modifications. Remove the custom ad blocker rule(s) and the page will load as expected.
The 1903 Boston Americans season was a season in American baseball. It involved the Americans finishing 1st in the American League with a record of 91 wins and 47 losses. They won the 1903 World Series in 8 games over the Pittsburgh Pirates.
The team was managed by Jimmy Collins and played at Huntington Avenue Grounds.
Season summary
Edit
The 1903 Boston Americans won the American League championship by finishing 14½ games up on the Philadelphia Athletics. The Americans were led by Buck Freeman, who hit 13 home runs and drove in 104 runs, his third straight 100 RBI campaign for the Boston club. Meanwhile, they won 10 straight games in early June to put themselves in the AL lead for good. They met the Pittsburgh Pirates in the first modern World Series, an agreement between the AL and the NL as a post-season tournament. The "Amerks" won the series in 8 games, winning the 8th game at Huntington Avenue Grounds to clinch the championship.
Regular season
Edit
Opening Day Lineup
Edit
Season standings
Edit
Template:1903 American League Standings
1903 Boston Americans roster

Roster
Pitchers
Catchers

Infielders

Outfielders

Other batters

Manager
Player stats
Edit
Starters by position
Edit
Note: Pos = position; G = Games played; AB = At Bats; H = Hits; Avg. = Batting Average; HR = Home Runs; RBI = Runs Batted In
Other batters
Edit
Starting pitchers
Edit
Note: G = Games pitched; IP = Innings pitched; W = Wins; L = Losses; ERA = Earned run average; SO = Strikeouts
World Series
Edit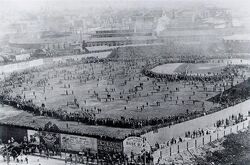 Main article: 1903 World Series
References
Edit
Template:1903 MLB season by team Template:Boston Red Sox